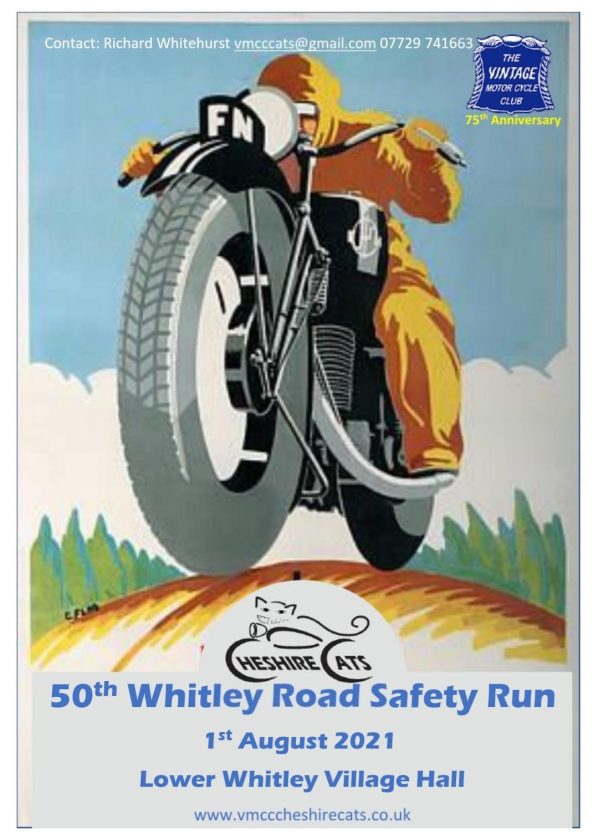 VMCC Cheshire Cats 50th Whitley Road Safety Run
Good afternoon fellow VMCC Section officers
This year sees the 50th Anniversary of the Whitley Road Safety Run in conjunction with the 75th Anniversary of the founding of the VMCC.
Although it is likely that COVID restrictions will be lifted by the time of the event we are planning for all eventualities and a slightly reduced event as there may still be an element of uncertainty.
Over its 50-year history the Whitley run has been well attended by the NW region Section members as well as by those from further afield and I would like to thank all riders and helpers for their support in both the good years and the lean years. The event welcomes, and has always tried to cater for, all types of eligible VMCC machines but with an emphasis on providing routes that are suited to older or smaller machines. With entries of over 100 riders at times in the past, the atmosphere and camaraderie on the day is well known, an ideal opportunity to get together with many like minded enthusiasts to share experiences and knowledge and chat.
This year the run will take place on Sunday 1st August 2021 from its usual home of Lower Whitley Village Hall near Warrington.
The route will be approximately 40-50 miles through Mid-Cheshire with the first bike leaving at 11am, calling for lunch at a local hostelry from 12 noon onwards and then back to the Village Hall for the results, awards and a cup of tea and biscuits. All motorcycles, sidecars and three-wheelers over 25 years old are eligible to ride and the cost of entry is £4. There will be awards in all age classes from Veteran through to Classic – regulations are attached. Riders can enter on the day before the start. Ample secure parking for bikes, cars and trailers is available on site.
Please contact me for any further information (details below).
 
I would be grateful if you would share this information with your members and I look forward to welcoming friends old and new on the day.

Richard Whitehurst
Secretary
VMCC Cheshire Cats Section
Mobile: 07729 741663
vmcccats@gmail.com